You must allow cookies and JavaScript for a proper shopping experience.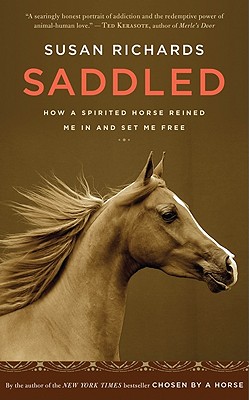 Price: $3.00
Publisher: Houghton Mifflin Harcourt : May 2010
Seller ID: 401122
ISBN-13: 9780547241722
Binding: Hardcover
Condition: Used - Good
---
One day, at the age of thirty-one, Susan Richards realized that she was an alcoholic. She wrote it down in her journal, struck by the fact that it had taken nine years of waking up hung-over to name her illness. What had changed? Susan had a new horse, a spirited Morgan named Georgia, and, as she says: ""It had something to do with Georgia. It had something to do with making a commitment as enormous as caring for a horse that might live as my companion for the next forty years. It had something to do with love."" Every day begins with a morning ride. Every day Susan lives a little more and t...
View More...
Price: $3.00
Publisher: J A Allen & Co Ltd : August 1999
Seller ID: 414118
ISBN-13: 9780851315997
Binding: Hardcover
Condition: Used - Good
---
Part of the Allen Breed series, this book looks at the first breed of light horse to be developed and registered in the USA. This book takes a look at the Morgan's American history and heritage, but also looks at it from an international viewpoint, studying its development in the USA, Canada, Britain and other European countries.
View More...